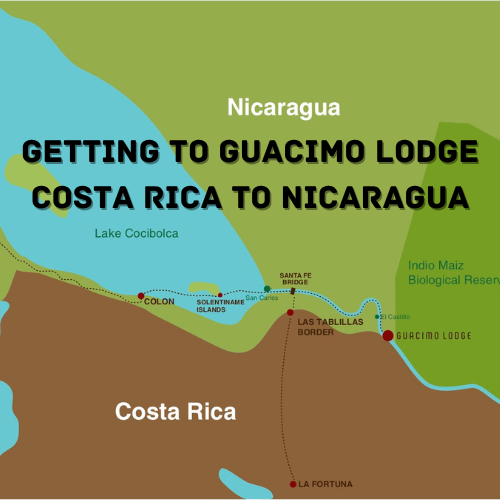 Getting to Guacimo Lodge: Costa Rica to Nicaragua
Guacimo Lodge perched on the banks of the Río San Juan, is only accessible by boat. This tranquility and remoteness often begs the question – how do I get to Guacimo Lodge? In this blog we're going to break down how you can get to Guacimo Lodge. All the way from the plane touching down in Costa Rica to Nicaragua where your head will touch down on the pillow in your deluxe cabin.
Flying in
Most guests to Guacimo Lodge will fly to the neighbouring country, Costa Rica. The international airports in Costa Rica are at Liberia, and at the capital, San José. You can also fly to the international airport at Nicaragua's capital city, Managua.
Return flights from the USA to Costa Rica can cost around 150 – 200 USD, and to Nicaragua for around 250 – 300 USD. Return flights from Europe to Costa Rica can cost between 400 – 600€, and to Nicaragua for between 500 – 800€.
Naturally, these different airports will require different transport routes to Guacimo Lodge. Let's outline the route from San José, Liberia, or Managua Airports to Guacimo Lodge. San José Airport is better connected to Europe, whilst Liberia Airport has good connections to North America.
Getting to the border
From whichever point you request transportation from in Costa Rica to the border we can arrange it via a reliable Costa Rican transportation company. The most requested journeys are from the capital San José to Las Tablillas border crossing point, Liberia International Airpot to Las Tablillas, and La Fortuna to Las Tablillas. The journeys from San José and Liberia take around 3 hours, and from La Fortuna takes around 1.5 hours.
If you are traveling from elsewhere in Nicaragua to Guacimo Lodge we can also organize a private transfer for you.
Crossing from Costa Rica to Nicaragua
Other guides on crossing from Costa Rica to Nicaragua will very much focus on the border crossing at Peñas Blancas in the west of Costa Rica. This guide will break down entering Nicaragua through the Las Tablillas border crossing in the center of the country. Las Tablillas is a more direct crossing point to reach San Carlos and thus Guacimo Lodge. The border crossing is also more recent, and less known than Peñas Blancas, and tends to be less busy and faster to traverse.
For info on how to cross the border at Peñas Blancas check out this blog here . It's a more direct path to the capital, Managua, and the beaches of San Juan del Sur.
At the border waiting for you will be a handler as part of Guacimo Lodge's meet-and-greet service. The handler will work with customs ahead of your arrival to ensure speedier passage into Nicaragua.
After the border
After the border in Nicaragua the meet-and-greet service will take you to Santa Fe Bridge, where you can avail of a private boat to Guacimo Lodge. Santa Fe Bridge is only a few minutes up the road from Las Tablillas, and the boat to Guacimo Lodge takes 1.5 hours from the bridge.
The home stretch
If you're traveling to Guacimo Lodge with your own vehicle from either Costa Rica or Managua you will have to park at the San Carlos dock. San Carlos is where you will take a boat to continue your journey, because no road goes to Guacimo Lodge. You will have to pay for the number of nights you wish to park your car at San Carlos. Parking at the port will cost 50 cordobas per day (about 1.5 USD). The dock has 24-hour security so there is no for concern while your car is parked. Please hold onto your parking receipt, you will need it when you wish to collect your vehicle.
From San Carlos, you will take a boat to El Castillo. There are 6 boat journeys that depart from San Carlos to El Castillo at the following times: 600, 800, 1030, 1230, 1430, and 1530. The transit takes around 2.5 hours and costs 150 cordobas (approximately 4 US Dollars) per ticket.
Once you reach El Castillo the Guacimo boat can collect you to take you to the lodge. This transfer takes about 15 minutes, and is cost-free.
Where to go after Guacimo Lodge
Guacimo Lodge in the southeast corner of Nicaragua can work as a great launchpad to explore the rest of Nicaragua. You can easily travel upriver to Lake Nicaragua. There you can visit the Solentiname Islands (read about these here ), Ometepe Island, the old colonial capital of Granada, or further onto the Pacific beaches of San Juan del Sur. From Guacimo Lodge you can even travel downstream to the Atlantic coast and the Corn Islands.
Book a room at Guacimo Lodge here .
Contact us directly at contact@guacimolodge.com .
How do I get from Costa Rica to Nicaragua?
You can cross the border at Peñas Blancas in the west, or at Las Tablillas in the middle of the country. Las Tablillas is closer to Guacimo Lodge.
How long does it take to get from Costa Rica to Nicaragua?
From San José or Liberia a vehicle journey to the border will take around 3 hours. From La Fortuna it will take around 1.5 hours.
How much does a bus from Costa Rica to Nicaragua cost?
From San José to Nicaragua a bus ticket would cost around 30USD.