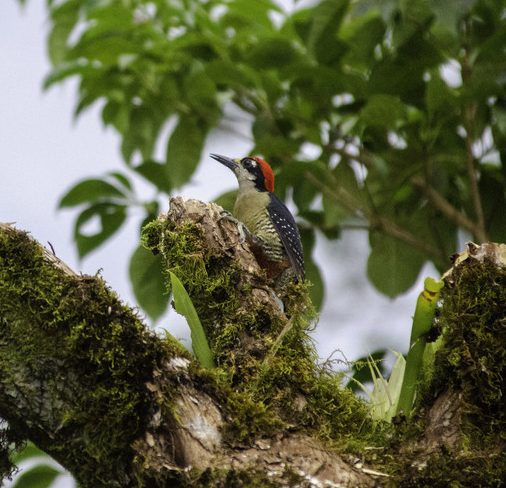 Birdwatching in the Indio Maíz Reserve
What you can expect during your birdwatching adventure with Guacimo Lodge:
We don't have alarms at Guacimo Lodge, instead we allow your day to begin with birdsongs. After waking up in your luxury eco-lodge to an outdoor shower, you will then enjoy your freshly made Nica breakfast and then embark on your guided birdwatching tour.
You will follow a well-researched trail, making your way through both forest and open vistas near the San Juan River. You will find over 221 different bird species in the Indio Maíz Reserve and observe nature in its rawest form.
https://www.inaturalist.org/observations/107689997
Bird Species Documented by our Guests:

At Guacimo Lodge we pride ourselves on documenting and studying the species here in Nicaragua. We use iNaturalist to do this and encourage all our visitors to upload their sightings during their stay. 

On our bird watching trails, guests have seen scarlet-rumped tanagers and black-cheeked woodpeckers, to name just a handful. During World Migratory Bird Day in October 2021, we took a number of guests to the Indio Maíz Reserve and spotted over 58 different bird species!
https://www.inaturalist.org/observations/107689999
 The Indio Maíz Biosphere also holds a large number of rare birds, such as the harpy eagle. The harpy eagle is the most powerful eagle in the world. Harpy eagles target larger prey, including monkeys, sloths, and even young deers. 
Our Conservation and Sustainability Efforts
At Guacimo Lodge, we place the needs of nature and the surrounding environments at the forefront of our work. This means ensuring that human activity does not disturb these delicate habitats.
Guacimo Lodge is powered by renewable energy. To ensure that we keep the surrounding biosphere in its best condition for future generations, we have planted 14,000 trees. We hope this will continue to promote and aid the growth of our ecosystems.
We also educate our visitors on the importance of conservation efforts. Beyond showing and teaching birdwatchers about the species they may encounter, we also highlight the fragility of these environments and the importance that must be placed on conserving them. 
https://www.inaturalist.org/observations/107690000
Book your birdwatching adventure at Guacimo Lodge by clicking here!